Our Leaders
Ashley Solomon
Active as a soloist and chamber musician, Ashley is the director of Florilegium, and much of his time is spent working and performing with the enemble which he co-founded in 1991. As a soloist, he has performed worldwide, incuding concertos in the Sydney Opera House, Esplanade (Singapore), Teatro Colon (Buenos Aires), Concertgebouw (Amsterdam), Konzerthaus (Vienna, Beethovenhaus (Bonn), Handel-Haus (Halle) and Frick Collection (New York). He and Florilegium record with Channel Classics, their most recent recording being performances of Haydn's symphonies 6,7 and 8 (le matin, le midi and le soir).
Since 2003 Ashley has been training vocalists and instrumentalists in Bolivia, working on the remarkable collection of music held in archives by the Moxos and Chiquitos people.He formed Arakaendar Bolivia Choir in 2005 and has directed them in concerts throughout North and South America, Europe and in the Far East and on their three CD recordings. In 2008 Ashley was the first European to receive the prestiogious Bolivian Hans Roth Prize, given in recognition of the enormous assistance he has given to the Bolivian native people, their presence on the international stage and the promotion and preservation of this music.
Ashley is Head of Historical Performance at the Royal College of Music. Since 2014 he has been working closely with the Royal Collection Trust to curate musical performances at royal venues including Buckingham Palace (the Queen's Gallery and the Ballroom), at Windsor Castle and in the Queen's Chapel.
Julia Bishop
Julia discovered her love of Early Music during her studies at the Royal College of Music when one day she heard the Baroque orchestra being directed by the inspiring Cat Mackintosh. Thirty years later Julia is recognised as one of the leading Baroque violinists of her generation, touring the world extensively and making numerous recordings with the period instrument orchestras of the United Kingdom including the London Classical Players, the Hanover Band, the Academy of Ancient Music, the English Concert, of whom she was a member for six years, and as leader and soloist with the Gabrieli Consort and Players. Her playing has been described in BBC Music Magazine as "psychedelic".
In 1997 Julia co-founded the ensemble Red Priest with recorder player Piers Adams and enjoyed nineteen years of huge success touring Europe, the Far East and America and making six highly acclaimed CDs before handing over to the violinist Adam Summerhaze to spend more time at home with family.
Recently Julia has become increasingly popular for her lively and informative teaching on workshops and courses around the United Kingdom and abroad. She is head of the newly formed Early Music department at Chichester University and is also guest Baroque violin teacher at the Royal Academy of Music and the Royal College of Music. She has also been greatly enjoying developing concert repertoire and performing concerts with soprano Ana-Maria Rincon and harpsichordist Howard Beach in their new chamber music ensemble Purcell's Muse.
Simon Standage
Simon Standage is well known as a violinist specialising in seventeenth and eighteenth century music. As leader and soloist with the English Concert from its foundation until 1990 he made many recordings (including Vivaldi's Four Seasons, nominated for a Grammy award). He also recorded solo and chamber music, including all of Mozart's violin concertos with the Academy of Ancient Music, of which he was, with Christopher Hogwood, Associate Director from 1991 to 1995. Since his founding, with Richard Hickox, of Collegium Musicum 90, he has made numerous acclaimed recordings for Chandos Records.
As soloist and director of chamber orchestras and as a chamber musician, he is active both in Britain and abroad. He is leader of the Salomon String Quartet (founded by him in 1981), which specialises in historical performance of the classical repertoire. He is Professor of Baroque Violin at the Royal Academy of Music in London and the Franz Liszt Academy in Budapest.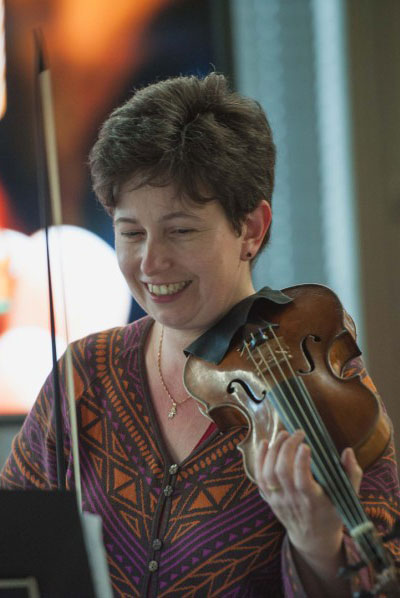 Kati Debretzeni
Born in Transylvania, Kati studied the violin with Ora Shiran in Israel, and the Baroque violin with Catherine Mackintosh and Walter Reiter at the Royal College of Music in London.
Since the year 2000 she has led the English Baroque Soloists under the direction of John Eliot Gardiner. Her playing can be heard on their recordings of the Bach Cantata Pilgrimage, and on the recently released B Minor Mass and Matthew Passion. In 2008 she was appointed as one of the leaders the Orchestra of the Age of Enlightenment, and has worked with Simon Rattle, William Christie, Roger Norrington, Ivan Fischer, Adam Fischer, Robin Ticciati, Emanuelle Haïm, Ottavio Dantone etc. She often appears as soloist and director with the orchestra, and has recorded Vivaldi's Four Seasons. She features as soloist on two versions of Bach's Brandenburg Concertos, with the European Brandenburg Ensemble under Trevor Pinnock (Gramophone Award 2007), and with the English Baroque Soloists.
She is a member of Trio Goya whose recent recording of the Beethoven Opus 1 piano trios for Chandos Chaconne was desribed in Early Music Review as "exceptionally satisfying". In demand as guest-leader and director, she has worked with the Academy of Ancient Music, the English Concert, the King's Consort, Arte dei Suonatori (Poland), Victoria Baroque Players (Canada), Barokkanerne (Norway), Amarillis (France), Barokkada and the Jerusalem Baroque Orchestra (Israel). Her most recent recording features concerti by Telemann with Barokkanerne, and was released last year to critical acclaim. She teaches the Baroque and Classical violin at the Royal Conservatory of Music in The Hague.
Our Soloists
Sophie Middleditch
Flute
Recorder
After graduating from Lancaster University in 1995, Sophie went on to study recorder, modern and baroque flute at Trinity College of Music. She has performed widely as a soloist and chamber musician, appearing at many festivals throught the UK and has also been a member of Essex Baroque Orchestra and the Britten-Pears Baroque Orchestra. Sophie has been recorder tutor at Chichester University since 1996. Sophie formed her own Baroque period chamber group, The Parnassian Ensemble, in 1998.
Lynden Cranham
Cello
Lynden studied at the Royal Academy of Music and with Maurice Eisenberg at Juilliard. A keen chamber musician, she toured and broadcast in Britain and Europe with the Burnell Piano Trio. Moving to America, she taught at Cornell and toured the US and New Zealand with the Accordo Perfetto Piano Quartet. Soloist in the Elgar Concerto and the Brahms Double at Cornell, she gave regular recitals on period and modern instruments, including the US premiere of Lutoslawski's Grave: Metamorphoses for Cello and Piano. The Pulitzer Prize-winning composer Steven Stucky wrote Voyages for Cello and Orchestra for her, which she premiered at Yale and in New York City. Lynden specialises in historical performance, and has recorded and toured worldwide with England's major period orchestras, with conductors including Gardiner, Rattle and Hogwood. She performs frequently in many parts of the country as a chamber-music and continuo player, and recitalist. Lynden has recently completed a PhD at Birkbeck, University of London, on the topic of music in 19th-century London.